We believe that children deserve to be surrounded with beauty, softness and comfort as well as order and attention to health and safety. Your child will be offered interesting materials, ample time and opportunities to investigate, transform and invent!
At this age, children have active bodies and a desire for adventure. Our educators will provoke wonder, curiosity and intellectual engagement. Your child will have the opportunity to engage in symbolic representation, literacy and the visual arts.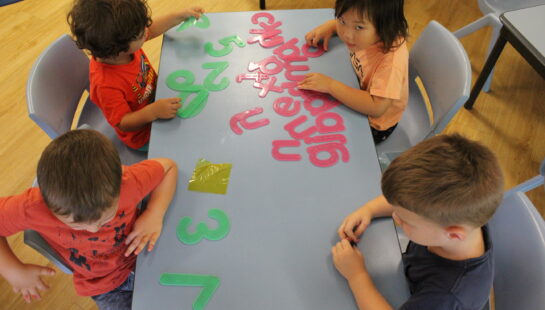 We want your child to connect to the natural world. Children are transfixed by looking at, smelling, touching and tasting, moving and rearranging things. These experiences are vital to young children. As they absorb the rich sensory information around them, their brain pathways are making connections that will be the foundation for a lifetime of experience and learning.
Our educators respect every child's competence, potential and ability to learn and will create opportunities for active, hands-on learning in an experimentally rich setting.
The 'Everyday Music' Program
Rainbow Town Early Learning Centre offers an exciting program called 'Everyday Music' on Thursday afternoons. This program provides children with an opportunity to experience playing a variety of traditional and home-made instruments. These hands-on learning activities help children develop a strong sense of music appreciation. Children will have the opportunity to listen to and create music as well as learn new songs, rhymes and actions. The 'Everyday Music' program is also designed to help children improve their fine and gross motor skills as well as widen their language and vocabulary. LiMara Music incorporates the teaching of AUSLAN signs and acknowledges Australia's Indigenous culture throughout the program.
Book in a Tour Today and See For Yourself