We believe that action and interaction with people and things count. Our educators believe in creating an environment rich in experiences and the opportunity for uninterrupted play. Play which is self-initiated, spontaneous and voluntary. Our educators are active collaborators in formulating projects based on the emerging ideas and skills of children. We understand that all children have preparedness, potential, curiosity, interest in constructing their learning, in engaging in social interaction and in negotiating with everything the environment brings to them (Gandini ,1993).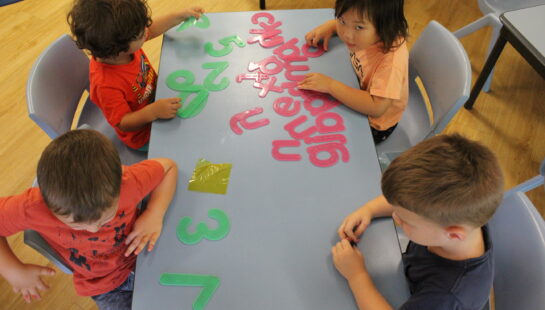 We run an inside/outside program which encourages children to actively interact with plants, water, dirt, the weather and life cycles of insects and animals in our local area. Our outdoor environment encourages your child to take risks to be challenged and make choices.
Children learn through play with intentional teaching throughout the day. Our educators are intentional in fostering your child's skills to discover and explore what they can do for themselves. They will engage in sustained shared conversations with children to extend their thinking. They will recognise spontaneous teachable moments as they occur and use them to build on children's learning. Our experienced educators will help your child recognise when play is unfair and offer constructive ways to build a caring, fair and inclusive learning community.
The 'Everyday Music' Program
Rainbow Town Early Learning Centre offers an exciting program called 'Everyday Music' on Thursday afternoons. This program provides children with an opportunity to experience playing a variety of traditional and home-made instruments. These hands-on learning activities help children develop a strong sense of music appreciation. Children will have the opportunity to listen to and create music as well as learn new songs, rhymes and actions. The 'Everyday Music' program is also designed to help children improve their fine and gross motor skills as well as widen their language and vocabulary. LiMara Music incorporates the teaching of AUSLAN signs and acknowledges Australia's Indigenous culture throughout the program.
Book in a Tour Today and See For Yourself